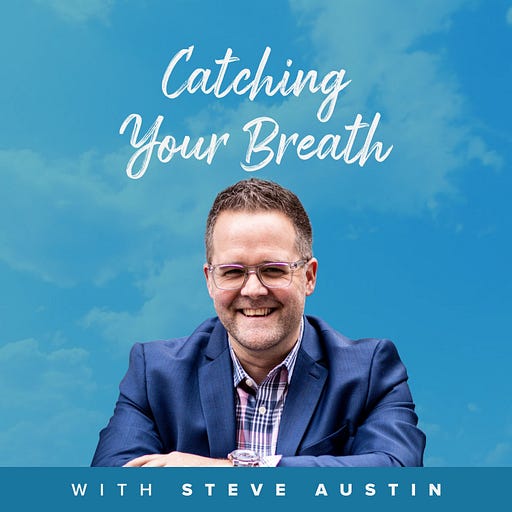 Jun 4, 2021 • 16M
An Introduction to Breath Prayers
Alternate title: Exhale the bullshit.
Join Steve Austin on the sacred journey from chaos to calm. Each episode will focus on practical ways to catch your breath. Self-help topics include self-compassion, shame, stress management, spirituality, and more.
What are breath prayers?
I'll tell you...
Sitting atop the toaster oven in my kitchen is a small wooden sign that reads, "Inhale the present. Exhale the past."
Said another way, it might read, "Inhale peace. Exhale anxiety."
Or feel free to fill in the blank with whatever you need to breathe in, and whatever you need to exhale today.
A breath prayer is precisely that: a prayer you can say as you inhale and exhale.
The beauty of a breath prayer is that you can offer it up any time, any place. You don't have to purchase a meditation cushion or light candles or sit cross-legged, touching your thumb to your index finger and humming OM. While that is exactly what I do at times, a breath prayer doesn't require anything other than your attention and your breath.
Whether you're sitting in the parking lot at work, hiding out in your car before the next dreaded work meeting, swimming laps at the pool, or standing in the shower (hoping your children don't kill each other), you can literally offer a breath prayer in any setting.
How does it work?
Much like the sign that sits on my toaster oven, you meditate on a particular phrase as you inhale, and pray a response to that thought on the exhale. Doing this helps to rid yourself of any external distractions for a few moments.
So, in the example of sitting in the parking lot at work, maybe you silence your phone and turn off the car stereo while you pray. 
If you're looking to increase your inner-peace, and could use some help exhaling the bullshit, listen to this 15-minute snippet from tonight's group coaching session. I pray it helps you slow down and just be for a while.
I'm in your corner,
Steve
P.S. I still have 3 spaces available for "Jesus Coaching." If you'd like to sign up for the 8 sessions, just email me back at steve@iamsteveaustin.com today! <3